Amusement Rides – History of the Swing Carousels
Swing ride is a variant of a carousel ride – a fairground ride that has chairs suspended by chains from the top of the carousel instead of seats shaped like animals. Some can even tilt its top. This ride is also called a swing carousel, wave swinger, yo-yo, Chair-O-Planes or a swinger.
Swing rides are the earliest forms of carousels. They existed in ancient Byzantium and were made with ropes and baskets that spun in circles around center pole and carried people. After that people started making carousels inspired by medieval cavalry games but swing rides survived until today and, some say, are even more popular today especially among the adults (although there are smaller swing rides for children). When the amusement parks started appearing, at the beginning of the 20th century, swing rides were one of the most common rides in them. Chair-O-Planes was first made in Germany in 1972 by a Zierer, company that still makes amusement rides today, and Franz Schwarzkopf. Since then many other manufacturers made their own versions of the Chair-O-Planes. Today, swing rides are made from small versions that have chairs 50cm above the ground to those placed on a high beams that spin people more than 100 meters high. Some have rotating platform that is always in horizontal position while other start tilting at some point during the ride (wave swingers). Here are some of them: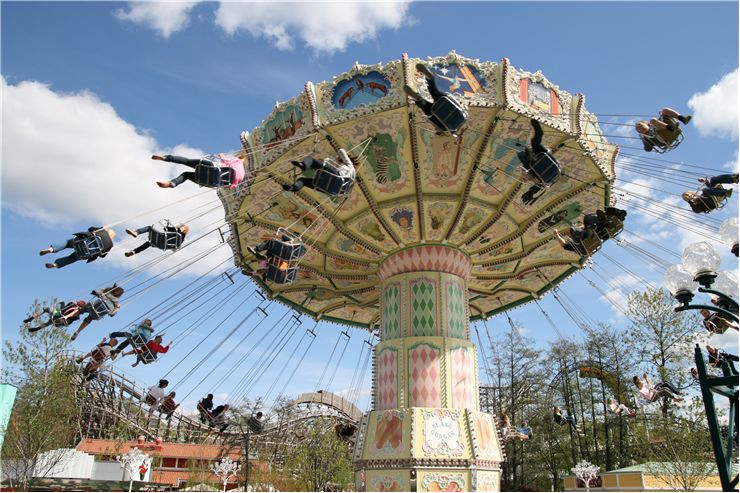 WindSeeker (or SteelHawk) is a 92 meters tall swing ride at several Cedar Fair parks in United States. The first one was opened in 2011 and they have 32 suspended twin seats (64 seats). Riders take their seats on the ground and are then lifted.
Praterturm (Prater Tower) is located in Prater, Austria and it was opened on May 1, 2010. It has a height of 177 meters and it was made by Tyrolean Company "Funtime" in just a little more than half a year.
"Les Chaises volantes" (Flying chairs) swing ride located in Walibi Sud-Ouest in France was made in 1987 and is still in use.
Largest Chair-O-Plane in the world was, according the claims of Loudoun Castle Theme Park in Scotland that holds it, The "Apollo 14" (later named the "The Plough").
Star Flyer, located in Tivoli Gardens, Copenhagen, Denmark lifts to a height of 80 meters and is a combination of carousel and a watchtower. Its platform has a diameter of 16 meters and it has 12 twin seats.
SkyScreamer is a name for swing rides located at several Six Flags theme parks in North America. They have height between 45 and 125 meters and can reach the speed of 69 km/h.
Silly Symphony Swings is a wave swinger located at Disney California Adventure, at the Disneyland Resort in California. It has a height of 12 meters but it has 48 chairs.
There is a rumour that a swing ride called Twister: F5 will be opened in 2015 in a horror-themed theme park. It will tilt tilts 90 degrees and its maximum speed will be 64 km/h.