The World's Most Famous Carousels
There are many famous carousels. Some are famous for their size, some for their art or their innovative ideas and design. Here are some of them, new and old:
The tallest swing carousel is "Prater Turm" in Vienna, It is 117 meters tall and was built in 2010.
The largest carousel in the world is carousel located at the House on the Rock near Dodgeville and Spring Green, Wisconsin in Iowa County. It has 269 different carousel animals, 182 chandeliers, and is lit with over 20,000 lights.
The oldest carousel in the United States was constructed in 1876. It is called Flying Horses Carousel and it is located currently in Oak Bluffs, Massachusetts.
The first known carousel to appear in the United States appeared in1799 in Salem, Massachusetts. It is mentioned in the texts as "a wooden horse circus ride".
United States have only one steam-powered carousel in working condition. It operates on Labor Day weekend at the annual Western Minnesota Steam Threshers Reunion in Rollag, Minnesota.
The world tallest classic carousel (with wooden horses) are a pair of double decker carousels called the Columbia Carousels and located at Six Flags Great America and at California's Great America parks. They both have height of 30m.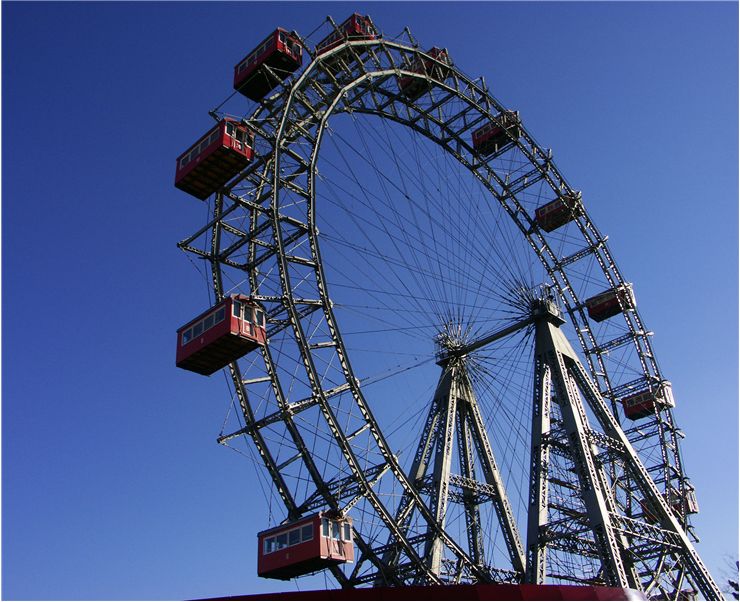 Six carousels were donated to Binghamton, New York, which is considered the "Carousel Capital of the World", by George F. Johnson. They were donated under one rule: to never charge admission for anyone to ride them.
The oldest carousel in the world made in 1780 stands in Germany at the Wilhelmsbad Park in Hanau.
Santa Cruz Beach Boardwalk Looff Carousel, made in 1911, is still in the same place and is one of that rare ones that didn't change location since it is placed.
The only carousel that rides in a waving motions is so called "Over the Jumps" carousel in Arkansas created by Herschell & Spillman Company.
Fastest carousel in the world is carousel at Eldridge Park in New York.
Cedar Downs Racing Derby is a carousel in Sandusky, Ohio and is one of two carousels that have horses that move back and forth as the carousel speeds up (hence the name "Racing Derby"). It was made in 1920.
Endangered Species Carousel in Fort Wayne, Indiana has animals that are endangered for seats. It was made in 1994 and is located in a zoo.
When it was built in 1927 in Pittsburgh, Pennsylvania, Kennywood Park Carousel was advertised as "the largest and most elaborate carousel ever built". It has 72 animals, of course carved by hand.
Grand Rapids Museum Carousel in Michigan, was built in 1902 near the river. It still has the same ticket booth that it had when it opened for the first time.
Morgan Wonderland Carousel, in San Antonio, has chariots that are designed to accommodate those in wheelchairs.
Flying Horse carousel in Westerly, Rhode Island, has horses that were carved from one single piece of wood (since the popularity of carousels, horses were carved from many pieces of food glue together.)